Details of the grizzly bear viewing tours
Great Bear Lodge is open from May through October. All of our tours last for three nights, and depart from Port Hardy at 3pm. Tours are scheduled to arrive back in Port Hardy in the late afternoon on your final day, however we recommend that you plan to stay the night after the tour in Port Hardy in case we are delayed by wilderness weather.
Seaplane flight to the lodge
Flying to the lodge in the Great Bear Rainforest is a spectacular journey. Conservationists consider our area to be a rare jewel in today's world, one of the few complete and relatively intact ecosystems remaining on the planet. Stretching over 8 millions acres, twice the size of Africa's Serengeti, this remote, temperate coastal rainforest is home to several threatened species and is one of the last strongholds of the great bear, the grizzly bear, in the world.
This coastal ecosystem revolves around the annual return of five species of Pacific salmon each autumn that provide a rich nutritional bounty, which allows for the immense trees and bears for which this coast is famous. This is an unforgettable way to start your bear watching tour in Canada.
Your flight to Great Bear Lodge from Port Hardy is included in your grizzly bear tour. For a complete description of a typical tour, go to a sample itinerary. You can also find out information about getting to Port Hardy on Vancouver Island.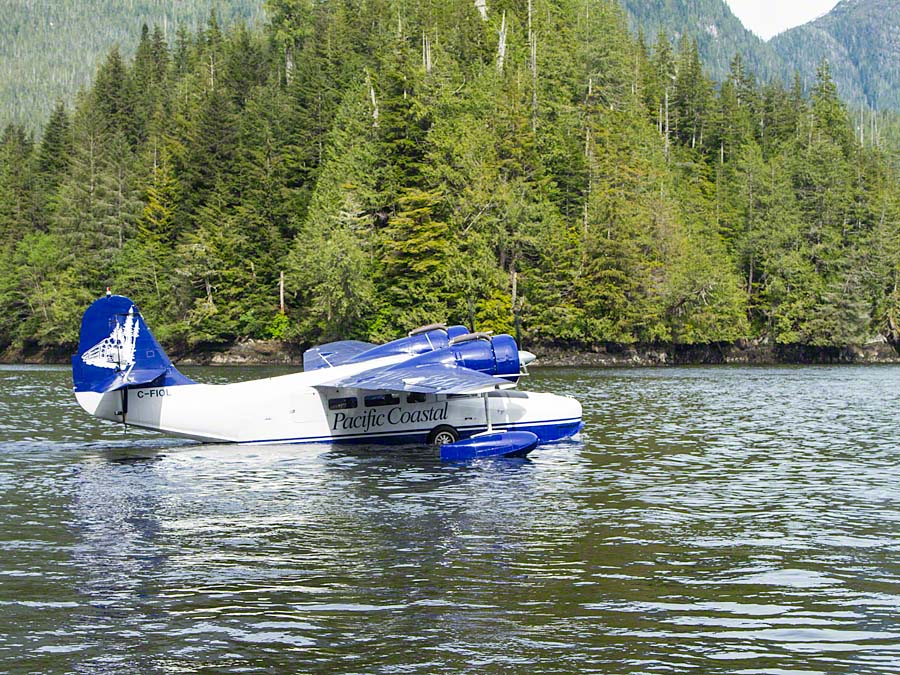 Tour inclusions
A sample price is CAD$2075 – $3750 per person for a 3-night stay based on double occupancy, with the prices varying by season. All grizzly bear tours include the following:
Two grizzly bear viewing sessions per day, with a wildlife biologist as guide*
Accommodation in a private room at the Great Bear Lodge with ensuite shower
Wilderness-gourmet meals with complimentary wine and beer**
Interpretive discussion and welcome orientation for wildlife viewing
Activities such as interpretive walks or boat excursions
Return seaplane flight from Port Hardy to Great Bear Lodge
Binoculars, rain gear and rubber boots, if require
* On your arrival and departure days, you will have time to participate in one session.
** Special diets can be catered with advance notice.
Sample itinerary for a stay at Great Bear Lodge
The following itinerary is based on a tour in autumn. Tour itineraries change through the seasons as we need to allow for differing hours of daylight.
Day One – Your adventure begins
Departing from Port Hardy in the afternoon, you will leave behind the noise of modern life for a remote wilderness. Transportation is by seaplane. Journeying to our site is a spectacular adventure in itself, traveling over the breathtaking scenery of the central coast and over the rich waters of Queen Charlotte Strait, the home of orca, gray and humpback whales.
Upon your arrival at the lodge, your hosts will be on the dock to welcome you to your wilderness retreat. Settle into your private room at the lodge, before joining the group for your first wildlife viewing session. We have a range of different viewing sites, and will choose one according to where the bears have been most active. Estuary sites are reached by boat, while river sites are reached by a wilderness track. The viewing blinds on the river have been constructed with the photographer in mind, and are optimal and comfortable places from which to view bears.
There is nothing quite like seeing your first grizzly emerge from the forest.
Returning to the lodge that evening, you will be treated to a wilderness-gourmet meal. Our biologist will present slides and videos, explaining the interaction of the grizzly bear with this unique ecology.
Day Two
In the morning, you will be on the trail of the grizzly bear again after some good coffee and breakfast. A typical viewing session lasts three hours.
After a morning of adventure, you will return to the lodge for lunch and a chance to relax. Spend the early afternoon exploring the surrounding area with the guide. A popular activity is the interpretive rainforest walk, examining bear sign and the general ecology of the area. In mid-afternoon you will venture out to see the bears before relaxing in the lodge for dinner. On clear nights, the stars are amazing.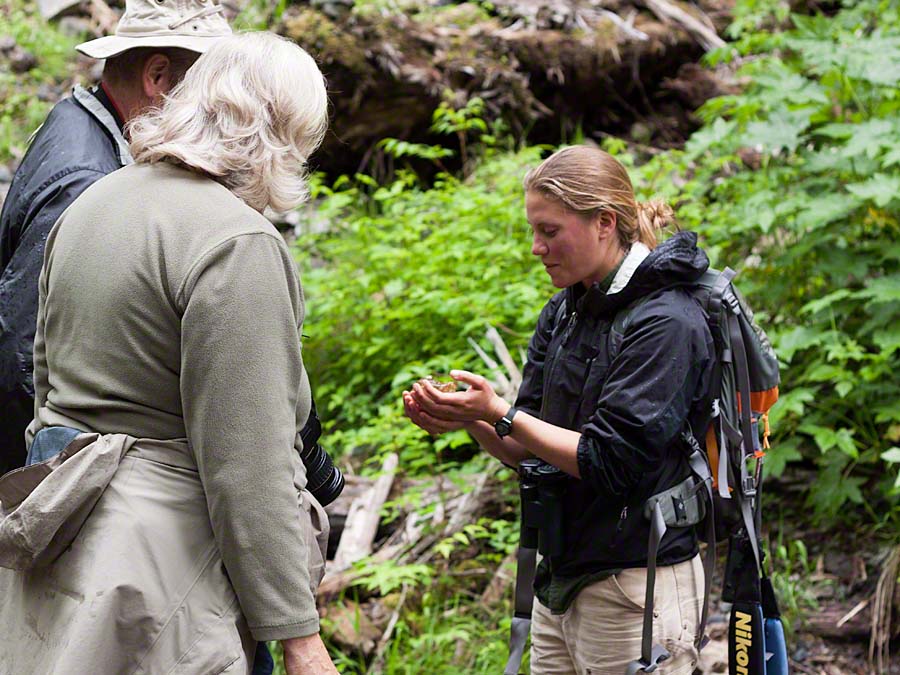 Day Three
As your stay at the lodge continues, you begin to settle into the natural rhythm of the valley. The bears are generally most active in the early morning and late afternoon hours, which is why we focus our viewing sessions on these times. Over the course of your stay we will take you a variety of sites, depending on the bear activity.
For the afternoon recreation today we may take a boat excursion to explore the glacier-carved inlet. Or you may prefer to relax and enjoy the view from the lodge. The Great Bear Rainforest is home to many animals, including grey wolves, otters, black bears, mink and bald eagles. One of our favorite dishes is marinated salmon baked on a cedar plank.
Day Four
After your parting session with the bears, lunch and an afternoon activity, you will be returned to Port Hardy by floatplane in the afternoon sometime between 4pm and 6pm.
Please contact us for pricing information. We typically respond in 12 hours or less. We can help you with assistance with your travel plans and accommodations for Port Hardy, and for your pre-trip planning.